Acoustic Vehicle Alerting System for EV
SoundRacer Electric Vehicle Sound Module EVSMA-1
Contact SoundRacer directly with  this form to get a quote and more information.
Sound Module for electric and hybrid vehicles.
The EVSMA-1 module is designed for pedestrian warning sound, AVAS, and entertainment engine sound for enhanced driving experience. Here are examples of vehicles that we have supplied our EV sound systems to:
Electric and hybrid cars, BEV, PHEV and HEV.
Electric buses, trucks and fork lifts.
Electric motorcykels, scooters and bikes.
Electric vehicles like airport transporters, NEVs and golf karts.
Cars converted to electric.
Home built electric cars.
E-Karts.
Vehicle speed or RPM input
0‐5V analog signal.
0‐x Hz frequency signal
CAN bus speed or RPM input via external interface, see page Accessories.
More info about input signals here
Engine sound output
2x20W integrated Class-D amplifier. Connect directly to speakers.
Line output to external amplifier.
Engine sounds, see page EV Sounds
Sound files are stored on a MicroSD memory card. These engine sounds are included with the sound module:
Standard 4-cylinder car, big diesel truck, Shelby Mustang V8, Lamborghini V10, Lexus LFA V10, Ferrari V12  and the motorcycle sounds Suzuki GSX and Classic American V-Twin motorcycle.
Any type of custom sounds can be developed by the user or ordered from the sound specialists Sound to Sight.
With the SoundRacer File Generator Windows program the user can generate a sound file from four wav files: Idling, acceleration low, acceleration high and deceleration.
MicroSD memory card:
Input signal settings and other parameters are stored together with the sound files on a MicroSD memory card. User can select settings and sounds in the SRFileGen Windows program and store on the MicroSD card.
Gear change function
Simulated gear changes at two different speeds, customer specified with the SRFileGen Windows program. The function is selectable with external switch.
Power supply
Voltage 11‐15V DC. Current consumption with no audio out 170 mA, 90% efficient digital amplifier for sound output.
EMC
UNECE Regulation 10: Vehicle Radiated Emissions & Immunity Tested. See page Certifications
Housing
Box (with mounting flanges):  87 (111) x 57 x 39 mm. Weight 85 g. 16 pin connector.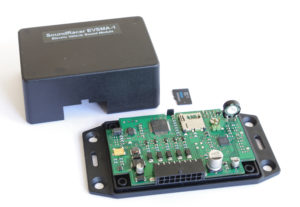 Fill in this form for more info and quotes.
User Manual can be downloaded here SoundRacer EVSMA-1 User Manual
Manufactured in Sweden for SoundRacer AB by Frontside Electronics AB. ISO 9001 and ISO 14001 certificates